Vision
---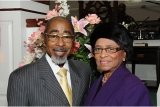 Mission
Statement
To obey the will of God through preaching, teaching, witnessing, stewardship and fellowship.
Objectives

Magnify the Lord through worship, praise, prayer and participation in mission.

Instill in the congregation the importance of God's will and the work of ministries by giving of our time, talent and tithe.
Evangelize to the lost by telling them about the saving grace of Jesus Christ, and bring them to Christ so that they might be saved and baptized in the name of the Father, Son, and Holy Spirit.
Guide and assist the congregation in developing Biblical convictions, Christian principles and moral standards as taught by Jesus Christ.
Educate the members of the congregation by teaching the doctrine of Christ and equipping them through training to live the Christian lifestyle in the simple world.
Challenge and encourage the members to become in practice what they are in spirit.